2-in-1 Wireless Audio Solution Pro: Bluetooth Speaker & TWS Earphones Combo
2-in-1 Wireless Audio Solution Pro: Bluetooth Speaker & TWS Earphones Combo
Get the best of both worlds with the 2-in-1 Wireless Audio Solution Pro
This cutting-edge product features a powerful Bluetooth speaker and TWS earphones, providing you with a seamless audio experience wherever you go. The speaker boasts exceptional sound quality and a compact design that makes it easy to carry, while the TWS earphones deliver crystal-clear sound without the hassle of cords. With Bluetooth connectivity, you can pair the 2-in-1 Wireless Audio Solution Pro with any compatible device, such as your smartphone, tablet, or laptop. The long-lasting battery life ensures you can enjoy your music all day. Whether you're at home, in the office, or on the go, this pro-level audio solution is the perfect choice for all your listening needs."
Product Information
*Type: Portable Speaker, In-ear Earphones
*Compatibility: Bluetooth-paired devices
*Play Time: Speaker : 3.5 hours | Earphones : 5 hours
*Standby Time: 120 days
*Bluetooth: Yes, v5.1
*Dimensions: 102 x 62 x 62 mm
*Weight: 0.247kg
*Battery: Speaker: 800mAh | Earphones: 33mAh
*Input: DC 5V
*Charge Time: 1 hour
*Frequency Range: 20-20000 HZ
*Features: 2-in-1 design, with lanyard
Package Contains
1 x User Manual
1 x USB-C Charging Cable
1 x Wireless Bluetooth Speaker
1 x TWS Earbuds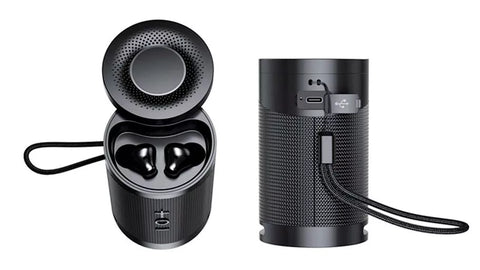 Returns Policy
We have a 30-day return policy. Please check whether your goods are in good condition after receiving them.If there is any problem with product quality, please contact us in time, we will give you a satisfactory solution after checking and confirming
Shipping
Free worldwide shipping. Orders are processed within 1-3 business days(excluding weekends and holidays) after receiving your order confirmation email.You will receive another notification when your order has shipped. Delivery time:5-15days(Time varies from different area)
The sound quality is good and it's really compact size to carry it anywhere.
These headphones were pretty comfortable, stayed in place during my entire workout. The noise cancellation helped me focus and get in my zone too. Best part about them is how light weight they are which makes the sound quality amazing, feels like your jamming out with no headphones. Other cool thing is its also a speaker, great for playing my audio books while cooking or in the shower. Definitely recommend trying it out. Much cheaper than all the name brand headphones and still great quality.
Cool little set
The earbuds are comfortable and sound good. They are a little interesting to put in but its easy to get used to and feel quite secure. The speaker on the charging case is a cool touch and the sound is decent.
They fit great!
I have really small ears, and I have a hard time with all earbuds. I have actually had to order children's sizes in the past. These came with a great variety of sizes and they fit into my ear perfectly! They stayed in when I did yoga, went running and lifting weights. The sound is great, and I haven't had any issues with connectivity. They were also super easy to connect to my phone. The wireless speaker has good quality and for its size the sound is great. I would absolutely purchase these again.
This product works well for because I like to be outdoors. Tge battery life is great, and sound quality is awesome. I have even used it while mowing the lawn and the sound was great.