A gift for your loved one :5 in 1 Multifunctional alarm clock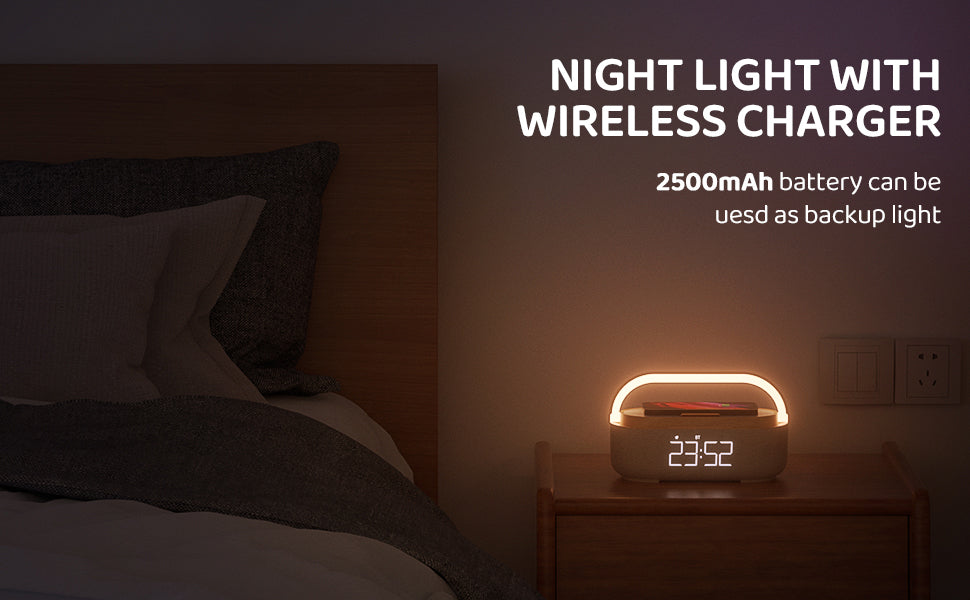 In the past, we always heard people complain that their bedside table put too much stuff, alarm clock, charger, speaker, bedside lamp, phone holder, etc., so that the table is very cluttered and the whole room looks messy.
Driven by our mission, in order to help people improve this situation and enjoy life better, finally our 5 in 1 multifunctional alarm clock was launched.
Alarm Clock/Snooze
Easy to set the time, the soothing music will wake you up.Snooze mode let you rest assured sleep. 
Bluetooth 5.0 & Powerful Dual Speakers
The bluetooth speaker can connect normally under difficult conditions and provides greater wireless range 33ft, so you can enjoy dynamic music anytime, anywhere. Wireless speaker with thumping volume, provides immersive sound with rich bass. Come to hearing feast exclusively for you.
15W Wireless Charging
Intelligent QI charging protocol provides fast and safe 15W charging for iOS and Android devices. Support charging with phone case (thickness less than 5mm, without metal). When using the wireless charging function, please plug in the power supply.
Main supported phone models:
IPhone 13/13 Pro Max/13 Mini/12/12 Mini/12 Pro Max/X/XS/XS Max/XR/8 Plus/8
Samsung Galaxy S22/S22 Ultra/S21/S20/S10/S10 Plus/S10E/S9/S9 Plus/Note 9/S8/S8 Plus/Note 8/S7 Edge/S7/S6 Edge plus/Note 5
Google Pixel 6/6XL/5/5XL/4/4 XL/3/3 XL/Nexus7/6/5/4
LG V60 ThinQ/V50 THINQ/V50/V40 THINQ/V35/V30+/V30/G8 THINQ/G8/G6
3-level Night Light
Touch the light to select the brightness.
Adjustable Phone/Tablet Holder
Rotate the light stand and put your phone or tablet easily,  you can watch a movie or have a FaceTime with your family or friends.
Customers said
"It's a great invention and my wife and I both like it. It makes our bedside table and room tidy, and it is also a nice decoration."
 "I have it on my desk and the wireless charging and stand features are very useful."
 "I was initially only attracted by its appearance, but when I received it, I changed my mind. It has a good sound quality and I love the speaker. I put it on the wall cabinet,it's beautiful."
 A gift for yourself or your loved one
Life needs surprises, you can create them.
Enjoy Unique. Enjoy Life